Circus Extreme Box Office
The Box office is open on the relevant Circus Extreme location on the advertised date everyday from 9am until 9pm
CALL NOW TO BOOK DIRECTLY ON
020 3375 3970
Seating Plan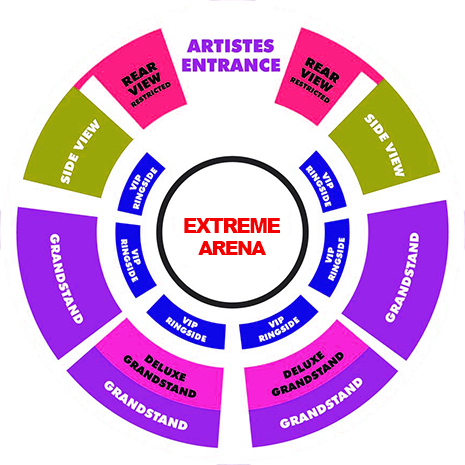 Pricing Table
REAR
VIEW
Restricted
SIDE
VIEW
GRANDSTAND
DELUXE
GRANDSTAND
VIP
RINGSIDE
ADULTS
£12
£18
£26
£30
£36
Under 16s Students
Over 60s and Jobseekers
£8
£16
£22
£26
£32
Rear Circle: Tiered seating with a restricted view of stage.
Side Circle: Tiered seating with a side view of stage.
Grandstand: Tiered seating with a front view of stage.
Grandstand Deluxe: Deluxe cushioned seats on first five rows facing stage.
VIP Ringside: Three rows of individual chairs all of which are on floor level and surround the stage.
Ringside and Grandstand Deluxe are numbered seats. All other areas are NOT numbered so please arrive 45 minutes before the performance to avoid disappointment. Children under 2 do not require a ticket but then must sit on someones lap. Buggies/Prams etc are not allowed inside the seating area but can be left in the Buggy Park in the foyer tent.
Access
Disabled customers must book at the circus ticket office on 0203 375 3970 to receive a special discount price.
Refunds
can not be made once payment is received.
Management reserve the right to refuse admission for reasons of safety and order.
Performances as described and illustrated may be subject to variation without prior notice.