Seating Plan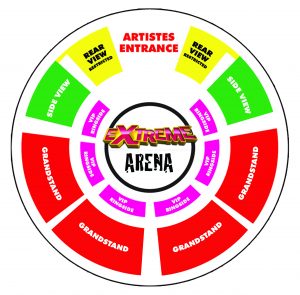 Ticket Prices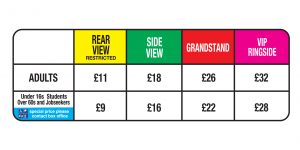 PLEASE NOTE: Your Group, family or social bubble will be automatically socially distanced by our booking system to ensure your safety and comfort. To ensure you are all seated together please ensure to make ONE booking only. Separate bookings may result in sitting separate.
Rear Circle: Tiered seating with a restricted view of stage.
Side Circle: Tiered seating with a side view of stage.
Grandstand: Tiered seating with a front view of stage.
VIP Ringside: Three rows of individual chairs all on floor level, surround the stage. This area is wheelchair accessible & step free.
Ringside and Grandstand Deluxe are numbered seats. All other areas are NOT numbered so please arrive 45 minutes before the performance to avoid disappointment.
Additional Pricing Information
Children
A child from the age of 2 to the age of 15 will require a child ticket.
Under 2 years of age, no ticket is required, and child can sit on parents' lap.
Over 60s
Anyone from 61 years of age can purchase a concession ticket.
Disabilities, Students and Jobseeking
We may require proof, to provide discounts and concession tickets.
Reservations and refunds
Purchased tickets are not refundable, this applies to tickets bought directly to our ticket office or via an online re-seller.
We can apply changes to a reservation based on availability, an administration charge of £2 may be applied for each change.
Any ticket related issues should be raised immediately via our box office.
Issues or alterations for shows that have already happened, cannot be satisfied.
Safety and order
Management reserve the right to refuse admission, or ask to leave the premises, for reasons of safety and order.
Performance description
Performances as described and illustrated may be subject to variation without prior notice.